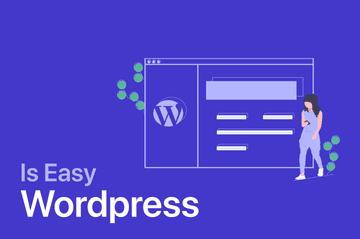 Is WordPress Easy to Use? What Experts Say?
This guide will tell you all you need to know about it and also give you some tips.
Web development! Chances are those two simple words either made you super excited or made you scared. Many people believe that web development is hard. But is it really?
With the advancement of technology and access to quality learning material and resources, frontend web development has become very easy. And WordPress, the popular and open-source content management system makes it much easier too!
So, the question everyone wonders is, is WordPress easy to use? This guide will tell you all you need to know about it. I will also give you some tips and introduce you to Frontend Planet, the go-to resource for frontend web development.
Is WordPress Easy to Use?
Let's cut the small talk and go straight to the answer. Yes, WordPress is easy to use. And more importantly, it is a powerful tool for frontend web developers. If you are skilled in WordPress, you open yourself to many possibilities.
From obscure startups to multibillion-dollar corporations, all use WordPress. In fact, one of the main reasons why it is so popular is because of how accessible it is for beginners. When you get your hands-on with some of WordPress's features and plugins, you will quickly start to see that the platform is very intuitive.
WordPress is a CMS. Now, what does that mean? CMS stands for 'Content Management System'. That means when you start with it, you do not have a blank slate. You get a fully designed site that can be customized. And you can put all your awesome content on it quickly (and easily).
Many elements of it run on a point-and-click interface. WordPress can be installed with just a couple of clicks as well! That makes it easy for anyone to get their hands wet and experience web development in a very accessible way.
The beauty of WordPress is the fact that it is accessible for beginners and intermediate web developers. But if you want to go all out and very much in-depth, you can. it is a robust platform.
Why Does WordPress Work So Well?
One of the reasons WordPress is so popular is simply because it has some crucial features that are accessible and easy to use.
Here are some things WordPress does very well. A couple of these things are crucial to having a successful and functioning website or business.
1. Customizability
WordPress lets you customize the look and feel of the website easily. You can also extend the functionality of your website without much hassle. These are done by plugins and themes. Keep on reading, we go in more depth about both of these.
The best part is that the community is always bringing out new themes and plugins for you to try out. So, you are never out of options.
2. Helpful Community
Speaking of the community that is another reason you will love using WordPress. With such a passionate and helpful community, you will always find someone to ask for help when you are stuck on something.
Besides, nothing worth building is done alone. And the WordPress community understands this in every sense.
3. WordPress Has Awesome SEO Features
What good is a stunning website if no one finds it? Good SEO is crucial for your site to be discovered by others. Whether you are starting a business or starting a personal blog, SEO helps you get that sweet and delicious traffic.
WordPress has awesome and effective SEO tools and features that ensure your site's ranking always stays on top.
Life Before WordPress
Traditionally when building a website, developers need to be very well versed in coding languages like HTML and CSS. These are somewhat the building blocks of any website. Software engineers and web developers with a firm grasp of these technical skills would labor away for hours and maybe even days to get a site up and running.
With WordPress, most of the hassle is somewhat eliminated. Every time someone needs to build a new website, they would start from scratch. And we mean really from the beginning.
We will let you in on a secret. Since WordPress is so popular, many are even asking the question: is web development dead? Since you do not need to be that technically savvy with WordPress, many people just like to play around with the idea that web development and in-depth technical knowledge is going to be obsolete.
Now, obviously, that is quite ridiculous. The world and many industries will always require technical people. Those who are artisans in their craft and live and breathe code and web development.
But just the fact that people started to talk about this goes to show how easy and accessible WordPress is.
Making the Most Out of WordPress
There are a couple of simple concepts you need to know about to make the most of WordPress. They are mainly plugins and themes. These are one of the most awesome features of WordPress.
### WordPress Plugins
Put simply, plugins are add-ons that increase the features and functionality of your WordPress website. There are different plugins for everything. You can install a contact form plugin and an online-membership plugin.
The best part is there are lots of plugins available. And new ones are coming out all the time. So, you have quite a lot of options to choose from. With all these plugins, you can extend the functionality of your site to new heights.
There are plugins for the frontend part of your website. These are the ones that visitors interact with. If you are a frontend developer yourself, you will know how tedious it can be to make something like a contact form of an online membership feature from scratch.
With some helpful plugins, all the tedious work is a thing of the past. Well, of course, there is some work you have to do. It does not all happen magically. But it is easier and less time-consuming.
WordPress Themes
The themes are exactly what they sound like. They dictate how your website looks and feels. All the design elements for your website can be changed with themes. And guess what? Just like plugins, there are tons of themes to choose from.
So, you are never really out of options. You can pick a particular theme that goes perfectly with your branding. They are easy to install and apply. That is because WordPress themes work like templates.
If you have ever worked with Microsoft PowerPoint, you would know what we are talking about. MS PowerPoint has a design template. The moment you click on one, that design is applied to every slide of your presentation.
That is exactly how it works with WordPress. You can pick a theme you like and apply it to change the look and feel of your whole website.
It does not end there though. You can even customize some themes to get the most out of it. If you want a website that has strict branding guidelines, you can choose the color palette and the general design of the website to match it.
Want to go even deeper than that? How about making your own theme? Yes, that is very much possible. Although you will need a bit more technical knowledge to build your theme.
Frontend Planet: Your Best Resource for Frontend Development
No matter what your needs are, we at Frontend Planet are your best resource for everything frontend web development. There are tons of CSS pagination examples to get you inspired and in the flow to create something spectacular. That is not all though. You can also use our beautiful pagination build with Javascript and CSS.
Want a touch of color for your website? Let our useful color palette tool help you get the exact shade you have in mind. Apart from all these, we have all the latest resources to always keep you on the bleeding edge of web development.
Conclusion
So, is WordPress easy to use? Absolutely! With WordPress, you can create a stunning website for yourself and other businesses in just a few clicks and drag. You can create professional looking websites without even knowing a single line of code.
So, start your web development journey today and don't forget to subscribe to our newsletter.