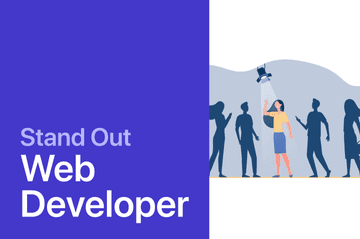 Rising Above the Crowd: How to Stand Out as a Web Developer
The recent mass layoffs in the tech industry have worried tech professionals and web developers aren't an exception. With so many professionals out of a job, fighting for a place in their respective careers, it's more critical than ever to catch the attention of hiring managers with your unique skill set and qualifications that set you apart from other web developers.
Businesses and clients are slowly revving their recruiting efforts, seeking the best talent. The direct effect is that interviews are becoming increasingly demanding, and to land a dream role, a web developer needs to stand out.
Seeing that web developers are an integral part of the tech ecosystem, the core question is: how can you stand out as a web developer in an increasingly highly saturated market and land your dream web developer job?
Let's find out how.
Build a Solid Resume
The introduction of HR departments' ATS (Applicant Tracking System) systems to track and assess resumes has changed how we format and write our CVs. We're even seeing platforms develop strategies to help job applicants beat ATS software.
While this sounds excellent, web developers' goal remains the same: have a resume that stands out.
Your CV doesn't necessarily need to be the flashiest or trying to compete for the design of the year award.
No.
You want to emphasize the CV's content, appearance, and user experience. This way, you allowed readers to quickly understand the information and scroll through each section without straining their eyes.
Constantly tailor your resume to a fit job description and craft your former job responsibilities and achievements compellingly and persuasively. This tells a hiring party you're a valuable asset joining their team.
Master the Fundamentals
The fundamentals exist for a reason. Learn and understand them. No one will take you seriously if you can't explain a fundamental concept in JavaScript, CSS, or HTML.
Plenty of things will evolve during your web development career. However, the fundamentals are evergreen; they are mostly permanent and unchanging.
It's easy to start riding the wave of new web technologies, including tools and languages when they emerge, but this won't do you any good if you haven't mastered the basics.
Employers, clients, colleagues, and other parties you work with will likely appreciate that you have mastered the basics more than some new technology you don't work with daily.
Learn from the Experts
You can teach yourself everything in web development from books, tutorials, and courses.
But nothing beats having a mentor who will hold your hand and show you the ropes.
Does this mean you can't become excellent without a mentor? Of course not. You'll do just fine. But having a mentor introduces a secret sauce. They help you:
Stay motivated: As you learn and grow your skill set, a mentor helps you overcome challenges and will push you to attain your goals.
With guidance: A mentor can quickly identify your strengths and weaknesses and teach you to capitalize on one while improving on the other.
Cut the fluff: Web development is a vast field with so many things to learn. A mentor will quickly cut down the infinite list of things to learn and offer a realistic learning path for your current situation.
The greater benefit that a mentor offers is that you never waste time figuring things out. You get to grow your knowledge from someone who has done it before and refine your craft with the highest degree of success.
Dedicate Yourself to Lifelong Learning
This doesn't get said often, but as a web developer, you're a lifelong student.
The exciting challenge with web development is that it's constantly evolving. New libraries, concepts, frameworks, and tools are always coming up. It's easy to get overwhelmed, but it's crucial to keep learning and innovating.
Even if you're already a ninja in web development, there's always room to learn more. Again, the more you learn, the more you can experiment. Web development is all about innovating and experimenting with different concepts and strategies that may appear alien to other developers. This is what sets you apart from the pack.
There are plenty of ways to achieve lifelong learning, including:
Consuming free or paid online resources such as newsletters, YouTube channels, podcasts, and blogs, among others.
Enrolling in a bootcamp to solidify your knowledge in web development.
Connecting with other developers who you share a common goal with.
Remember, many ways exist to learn new things; unfortunately, only a small part of that learning comes in "formal" settings. This cements the idea of why you need to invest heavily in lifelong learning.
Personal Branding and Networking
You've done the heavy work, invested in courses, landed your dream job, and found a mentor. Next, comes the more important task; how do you network, brand yourself, and push your work and what you do to the world and get known? Let's find out.
Establish an Online Presence
In today's digital age, establishing an online presence is more important than ever. The net effect is that you increase your chances of being discovered by potential clients and employers. You can achieve this by writing a personal blog, setting up a YouTube channel or podcast, and being active on social media.
Contribute to the Web Development Community
Sharing your knowledge and skills is an excellent way to give back to the web development community.
The benefit, you ask? You get to inspire the next generation of web developers. In addition, you establish yourself as an expert in the field. The net benefit is getting feedback on your work, landing new jobs or projects, and learning about new opportunities.
Attend Events and Meetups
Participating in community meetups and tech events allows you to stay up-to-date with the latest trends in web development. In addition, it also helps you gain new ideas you can use in your next project.
Take Care of Yourself (Physically and Mentally)
It's easy to get caught up in work. When this happens, burnout creeps in. This affects your productivity and performance.
Wellness is a huge priority for web developers. Developers who mind their well-being will write better code and enjoy more fulfilling careers.
Minimize eating junk and go for healthy meals. Instead of spending an entire weekend curled on the couch, indulging in caffeine-fueled video games, try to step outside, engage in physical activity, move around, and savor life. In addition, remember to get ample sleep time and embrace meditation.
Remember, the extent of your learning capacity and ability to focus on deep work is closely tied to what you nourish your mind and body with.
To become an excellent web developer, you start by protecting your most precious asset; the state of your brain, body, and mind.
Conclusion
Web development is a highly competitive and crowded field. However, you will thrive if you abide by the right principles and stick to the proper habits.
Typically, many web developers out there treat this field as just a job and will lack the appropriate mindset to achieve career success.
But if you embrace doing the difficult things, you'll build a solid technical background that will propel you to greatness.
Now that you have learnt how to stand out as a web developer, go out and build the technological world, one line of code at a time.
All the best!